KAHPERD PROGRAMS
Top 100 Jump Schools
Take a look at the top 100 Jump Schools in the United States
Resource Guide
The Jump for Heart website at AAHPERD has some great resourses.
American Heart Association also has some wonderful resources for Jump Events.
Jump / Hoop Contacts
JRFH/HFH State Coordinator - Brenda Sharp
See this map for contact person
JUMP ROPE FOR HEART
KAHPERD Jump Rope for Heart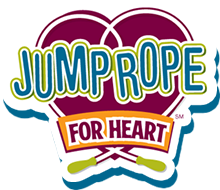 Jump Rope For Heart (JRFH) is a national fundraising program jointly sponsored by AAHPERD and the AHA. JRFH promotes physical activity, heart healthy living, and community service. JRFH targets elementary school students, but anyone can hold a JRFH event.
Jump Rope For Heart...
Is a fun event!

Promotes community service

Is an educational program for elementary students

Raises funds for lifesaving research and educational programs

Teaches students to set goals and discover that they can make a difference!
KANSAS CONTACTS
Brenda Sharp
KAHPERD, Joint Projects Chair
bsharp@goddardusd.com

Nikki Medina
AHA Youth Marketing Director
nikki.medina@heart.org
RESOURCES
Organizational hints: PDF | Word

Long Rope Skills and Games: PDF | Word